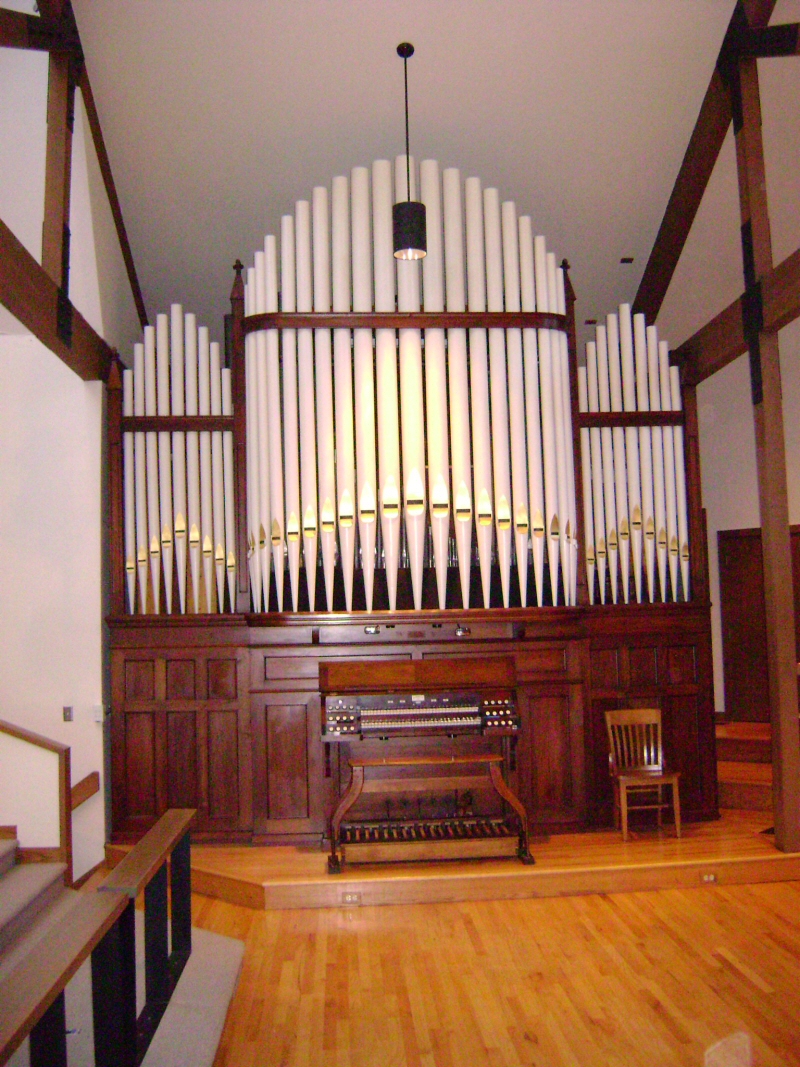 Tacoma AGO member Cheryl Drewes, Director of Music Ministries at Spanaway Lutheran Church, along with her husband Tim (also a member) will demonstrate the 1905 Woodberry Organ.
The organ is in a case at the front of the room, with a traditional style console with a keyboard cover that can be lifted to form a music rack. The organ has an attached keydesk.
There are two manuals, with a compass of 61 notes, three divisions, 22 stops, 18 registers, and 20 ranks. The pedalboard is flat, with a compass of 30 notes.  The organ features slider chests, and mechanical key and stop action.
Originally from the Boston area, Cheryl Drewes completed undergraduate majors in composition and music education at the University of Lowell (Mass.), and holds the Master of Music Degree in organ performance from New England Conservatory of Music. Cheryl has served on the National Council of the Organ Historical Society, as Dean of the Portland Chapter of the AGO, and has performed organ recitals throughout the Northwest and New England. 
Tim Drewes graduated from Pacific Lutheran University in 1982 with performance degrees in both piano and organ, studying with David Dahl.  He attended graduate school at New England Conservatory, studying with both William Porter and Yuko Hayashi.  Tim  also has extensive experience in organ building and repair, having worked for Byard Fritts while still in high school, and then  for George Bozeman in New Hampshire and later Richard Bond in Oregon, both known for their work with historic organs. Tim is Music Associate at Epiphany Parish in Seattle, and a well known performer locally and nationally.