When Tacoma AGO member David Dahl began his 40 year tenure as Director of Music at Christ Episcopal Church in 1970, he played an electronic device because there was not yet an organ in the newly constructed church building. The architect, not having heard of the concept of free-standing organs, had left space above the entryway where the pipes of an electropneumatic organ could be relegated to chambers. At about the same time, organ builder John Brombaugh was researching organs in northern Europe because there were no builders of mechanical organs in the United States, and very few examples of mechanical organs. He was familiar with recordings of European tracker organs by E. Power Biggs, having encountered them when he was an engineering graduate student. At at time when most of the world thought tracker organs represented outdated technology, John recognized quality in those recordings and was drawn to them.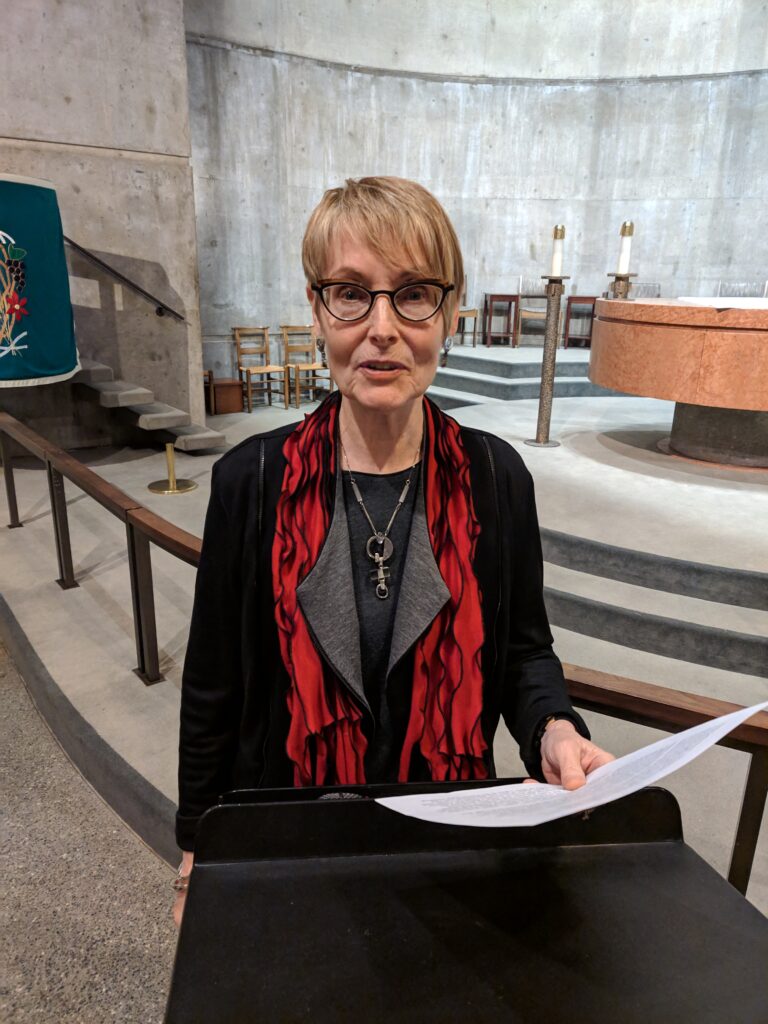 Thus, Satya Jaech, Tacoma AGO board member, introduced two legends in the history of organ building in the United States. Their discussion, preceding the 40th anniversary recital performed by Kraig Scott, was well attended by AGO members from the Tacoma and Seattle chapters, along with church members and others. Mark Brombaugh, former Tacoma AGO dean, and co-director of music at Christ Episcopal Church, moderated the program. The similarity to the name of the organ builder is not coincidental–Mark and John are brothers. Both have had long and distinguished musical careers–John as an organ builder, and Mark as a teacher and performer. Mark played the dedicatory recital for Opus 22 in 1979, as well as the twentieth and thirtieth anniversary recitals, long before there was any hint of his eventually becoming the Christ Church organist.
David Dahl and John Brombaugh met in The Netherlands in the early 1970's. David was attending an organ institute at Haarlem, and had purchased a Fiat convertible to bring home. Instead, David delayed his return and took a road trip with John to see some historical organs. David also visited Brombaugh organs in Ohio and Washington, and came to the conclusion that John Brombaugh would be at the top of the list if Christ Church were ever in a position to hire an organ builder.
However, at the time David was starting his career at Christ Church, the prospect of getting a real organ was bleak. Even though the room, with its extraordinary acoustics would have been a perfect setting, the debt on the newly constructed building was $285,000–substantial at the time. In July 1975, during a sermon, the rector announced that an anonymous donor had paid off the mortgage. Six weeks later, David had organized an organ committee.
It is rare for an organist and organ builder to have a good working relationship, according to David, and that is, in large part, why the organ at Christ Church has been so successful. Each of them brought strengths to the table, and each of them brought a desire to fill Christ Church with the magnificent sound of a mechanical action organ in a case–like those played and recorded by E. Power Biggs.
The Christ Church organ is not a copy of an existing organ, but its European heritage is clear. John was most influenced by a Marcussen organ in Denmark that he heard on his wedding trip. That Danish organ served as the prototype for three Brombaugh organs, including opera 20 and 21. Opus 22 is unique in having Harfenregal and Krummhorn stops.
At age 10, the organ needed a few changes. The original original Fagott pedal reed was replaced with a Posaune. David also wanted to add an Erzähler stop, a soft string, and its accompanying celeste. John initially said that he couldn't do it without replacing the chest, which would have been financially prohibitive. The third time is a charm, however, and the third time David asked him, he said there might be a way–which there was.
The organ has aged well. After 40 years it is still a landmark, still drawing curious organists from all parts of the globe, and still rewarding its audiences in church services and concerts. The credit for its success goes to to David Dahl and John Brombaugh–for their vision, their perseverance, and their recognition of the value of classical organs. David lists five factors that make a good organ, and points out that the Christ Church organ scores high in every category:
The pipes that produce the sound have to be voiced for beauty of tone color and ability to blend.
A good organ has a sensitive, responsive playing action.
A good organ has a flexible, responsive wind system that responds to the music being played.
The organ should be in a free standing case such that the case is able to blend and focus the sound.
An organ needs a good room.
John Brombaugh has a more succinct summary: "It was nice being in the Pacific Northwest at a time when most of the rest of the U.S. knew nothing about tracker organs. The old fashioned mechanical organs caught on here."