Tickets: $15 General Admission, $10 Senior Citizens and Students,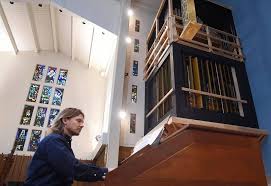 Curt Sather  is currently Interim Organist & Choirmaster at St. John's Episcopal Church, Olympia.  He received music degrees from Arizona State University and The Eastman School of Music. A 13-year tenure as Organist & Choirmaster at St. Barnabas on the Desert Episcopal Church in Scottsdale, Arizona saw the development of a large and varied vocal and instrumental program for people of all ages and levels of musical training. While in Phoenix he was an accompanist for the Phoenix Boys Choir, maintained a large private teaching studio for organ and piano, and belonged to numerous musical and arts organizations, serving on the boards of several. He has performed in the US, Europe, and Australia & New Zealand. A CD of organ music of J. S. Bach was recorded in 2007 in Italy.
Pilgrimage has been the focus of Dr. Sather's life: walking twice the 600 mile, 1200-year old Camino to Santiago de Compostela across northern Spain; traveling to the Holy Land; reading the great Russian novels of Gogol, Pushkin, Tolstoy and Dostoyevsky; traveling twice for 4 months each around the world on a ship; and attending twice the Richard Wagner opera festival in Bayreuth, Germany.
Curt also lived for 3-1/2 years in the historic Benedictine monastery of San Miniato al Monte in Florence, Italy, has performed the complete organ works of J. S. Bach on three occasions – twice over a series of 14 recitals (1995 and 2005), and once as a 23-hour marathon to celebrate the composer's birthday in 2006.